1947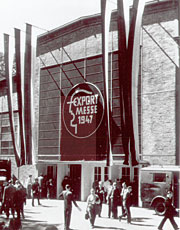 Establishment of the Deutsche Messe- und Ausstellungs-AG exhibition company
Deutsche Messe AG was founded on 16 August 1947 as Deutsche Messe- und Ausstellungs- AG (German Trade Fair and Exhibition Company) with a registered share capital of 1.2 million reichsmarks. This was an initiative of the British occupying forces in consultation with the commander-in-chief of the American zone.
The objective was to get Germany back on its feet economically by revving up its export business. After a 21-day run resulted in the signing of 1,934 export deals worth $31.6 million, the "Hannover Export Fair" was deemed a success.
1950
The first foreign exhibitors take part in the "German Industrial Fair"
At first, almost everyone was skeptical about Hannover's chances of overtaking Leipzig - the former "exhibition capital" of the defunct German Reich. But in the years that fol-lowed, HANNOVER MESSE became a symbol of Germany's economic miracle. Back in 1948, the first telephone connection was established between the trade fair company and New York. In 1950, the first exhibitors from abroad took part in the renamed "Deutsche Industrie-Messe" ("German Industrial Fair") and, in 1961, the term "HANNOVER MESSE" was officially adopted. It soon became a renowned, world-class event for cross-communication between technology and industry.
1985
Launching of the subsidiary "HANNOVER MESSE international" (HMI)
Initially set up in 1981 as a business division of the parent company, HANNOVER MESSES INTERNATIONAL (HFI) was incorporated in 1985 as an independent, limited liability company. It designs and runs its own international industrial and trade fairs abroad. As a hands-on company, it is responsible for organizing industrial group pavilions, information counters and special shows at overseas trade fairs and exhibitions.
1986
Separation of CeBIT and HANNOVER MESSE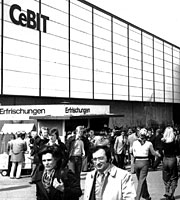 1986 Since cleaving off CeBIT from HANNOVER MESSE in 1986, both shows have become the trendsetters for industry and the flagship tradeshows among the many different trade fairs and exhibitions staged by DMAG in the state capital. Other events which regularly take place at the Hannover Exhibition Grounds are also recognized as world leaders in their respective fields.
1987
Company renamed "Deutsche Messe AG"
Since 1987, the company has traded under the name of Deutsche Messe AG.
2000
Expo 2000
For Deutsche Messe AG, the period from 1990 to 2000 was dominated by some major changes to the region's infrastructure, with new investment in the exhibition complex alone totaling some DM 1.6 billion. These improvements were all designed to prepare for hosting the world exhibition, EXPO 2000, which was supremely well run at the Hannover Exhibition Grounds. Since the end of EXPO 2000 on 31 October 2000, Deutsche Messe AG is the owner of the world's most modern and extensive exhibition facility. With its stunning architecture, the Hannover tradeshow complex offers international exhibitors and attendees an ideal forum for indepth and effective business networking.
2005
Highest volume of trade fair business in company history
With a total of 11 international trade shows staged at the its home base in Hannover, Germany, 2005 will go down as the biggest exhibition year in company history. Apart from a strongly customer-oriented approach, Deutsche Messe AG pursues a concerted policy of expanding and reshaping its facilities and events to reflect the state of international markets, which has resulted in the company being ranked among the world's top exhibition organizers. Along with fortifying and expanding its network of trade shows in Hannover, Deutsche Messe AG is also dedicated to increasing its share of business abroad. Through its foreign subsidiaries, Deutsche Messe AG helps export-oriented enterprises realize additional growth potential. In all its activities, Deutsche Messe AG oper-ates on a solid and independent basis, receiving no public funding.
2008
Joint Venture with Fiera Milano
Intent on consolidating its strategic orientation to foreign markets, Deutsche Messe now entered a joint venture with Fiera Milano, Europe's second leading trade fair organizer. The two companies hoped to gain a foothold in the growth markets of Russia, China and India, and expected to see their market position improve through their joint efforts and shared know-how.
Quality not quantity – CeBIT changes course
The world's leading trade fair for the digital industry now pressed the reset button and launched a new program. Lectures and specialist events added a new quality to the trade fair and accounted for a further increase in the proportion of professional visitors. CeBIT was shortened from seven to six days. Environmental issues featured for the first time on the trade fair agenda as the keynote theme "Green IT". The introduction of new content proved to be a good move. Over six days more than 10 million business talks were held, countless investment decisions initiated and orders concluded.
Best business results in company history
With 106 different events attracting over 39,000 exhibitors and a total of 3.22 million visitors for the year, Deutsche Messe is up among the world leaders as an organizer of leading international trade fairs.
2009
Go-ahead for expansion of SNIEC
In spite of the world economic crisis, activities geared to further developing the Shanghai New International Expo Center (SNIEC) in China went ahead. After completion of the building work at the end of 2010 the venue will offer a display area of 200,000 square meters – plus a 130,000 square meter open-air site. Since the facility first opened in 2001 it has emerged as China's most important trade show and exhibition venue.
Chinese subsidiary celebrates its first 10 years
Founded by Deutsche Messe in 1999, Hannover Fairs Shanghai Ltd., which now operates under the name Hannover Milano Fairs Shanghai Ltd., can now look back on 10 successful years. During this period it has made a significant impact on the Chinese exhibition and trade fair market, and now stages up to 15 shows each year in China's major centers of business and industry concentrated around Shanghai, Beijing, Chengdu and Guangzhou.
Deutsche Messe steps up commitment to Japan
In 2009 Deutsche Messe stepped up its involvement in the Japanese market with the establishment of a new local subsidiary. Deutsche Messe Japan K.K. began by intensifying efforts to recruit exhibitors and visitors for the various trade fairs staged in Hannover and developing a network of contacts with major Japanese companies.
2010
Foreign business expansion and restructuring
Deutsche Messe added 13 new foreign trade fairs to its portfolio of trade fairs outside of Germany. These included the first HANNOVER MESSE franchises in Moscow, organized by Deutsche Messe in collaboration with a local partner. The events on foreign markets proved highly successful, and in order to strengthen the company's position in the competitive international market the different areas of responsibility were more clearly demarcated: henceforth the subsidiary Hannover Messe International (HMI) – which in future would operate under the name Hannover Fairs International GmbH – was made responsible for all international exhibitions and trade fairs staged outside Germany. This reorganization gave fresh impetus to Deutsche Messe's growth strategy.

Convention Center wins "Location Award"
The best venue for exciting major events: experienced event organizers chose the Convention Center as the winner of the 2010 Location Award. The jury was particularly impressed by the flexibility and scope of the venue, the quality of service, the facilities and their communications infrastructure.
Extensive event portfolio scores outstanding results
With over 50 events during the year – ranging from a medical congress to open-air concerts and sporting events – the Hannover Exhibition Center attracted a steady stream of visitors. In fact Deutsche Messe recorded 2010 as its most successful year for congresses, conventions, events and special functions. One particular highlight was the concert by AC/DC, attended by 80,000 fans who danced the night away around the Hermes Tower and under the Expo Canopy.
2011
Deutsche Messe expands its market presence in Russia
In February the newly founded Russian subsidiary Deutsche Messe RUS became operational. This marks an important milestone in the expansion of Deutsche Messe into Eastern Europe, and paves the way for the company to play a leading role in this fast-growing market.